Press briefing on the second National Climate Change Symposium
Ministry of Water and Environment/Climate Change Department urges climate change actors to utilize the platform provided by upcoming 2nd National Climate Change Symposium and Expo to raise awareness
The Under Secretary – Finance and Administration. Ms. Flavia Waduwa representing the Permanent Secretary has urged the public to utilize the platform to raise awareness, foster knowledge and understanding in climate change. The remark was made at the press-conference held at the Ministry headquarters in Luzira ahead of the 2nd National Climate Change Symposium and Expo slated for Thursday, 4 July 2019 at Hotel Africana, Kampala. The Press conference featured the Managing Director – Nation Media Group, representatives from UNDP, GIZ and Agricultural Business Initiative (aBi).
Mr. Bob Natifu, Asst. Commissioner – Climate Change Department said that it is unequivocal that climate change is occurring, citing the IPCC special report on the impacts of global warming of 1.5 °C above pre-industrial levels. He highlighted initiatives on-going to address climate change and urged participants to save tomorrow's climate today.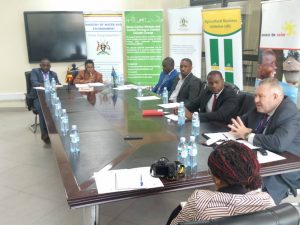 Generally, panelists at the press-conference underscored the risk to economic growth due to climate change impacts and pledged to support the country in meeting its targets in the Nationally Determined Contributions (NDC).The Nation Media Group announced that it will provide live coverage of the symposium.
The symposium under the theme, 'Accelerating Climate Actions through Innovations' will feature sub-themes: Gender and Climate Change; Leveraging private sector engagement in climate action and Opportunities for climate finance.
The 2nd National Climate Change Symposium and Expo is one of the actions in respect to the 2019 targets of the Uganda NDC Partnership Plan, Output 4.1c: Number of awareness campaigns facilitating NDC Climate Actions and SDGs knowledge generation and dissemination.